News
#WinningWednesdays with Cameron Main
14 April 2021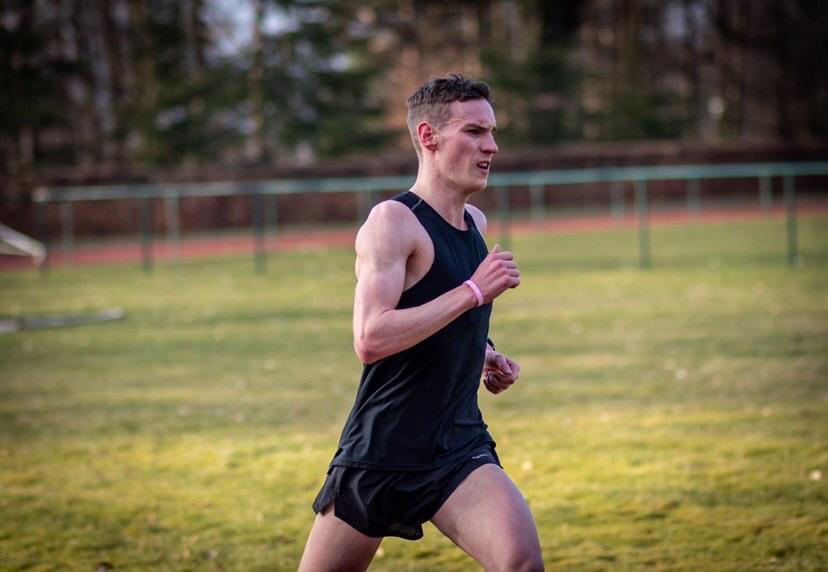 Cameron Main has spent the last 12 months purposefully pedalling and routinely running in pursuit of his ultimate goal; qualification for the 2022 Commonwealth Games in Birmingham.
The 21-year-old has been pounding the streets of Elgin, his hometown, unwilling to let his development be hindered by a global pandemic. Running and bike sessions have been supplemented, sporadically, by open-water swims in preparation for a return to triathlons in May.
"My coach, Andrew Woodroffe, Head of Performance at the University of Stirling for the triathlon squad, set my training plan for the whole summer," said Main, as he described his solo work in lockdown. "It helped me train consistently, but it was quite tough - simply because we didn't have a date to train for.
"A key aspect was focusing on the Commonwealth Games next year, Birmingham 2022. I tried to keep that in the back of my mind and use that as my long-term focus. Everything I'm doing is to build and develop me in 2021 and 2022.
"I just tried to think long-term and, hopefully, in 2021 and 2022, things will be back to normal and the Commonwealth Games will go ahead."
Main returned to competitive action earlier this month at a Podium 5k event in Barrowford. It was his first opportunity to chart the success of a prolonged training block, and the result was impressive.
"It was just a running race, but it was a great opportunity to be back on the start line with some top guys," he explained. "It was a really fast race in some great conditions. I ran 13:53 for the 5km, taking 55 seconds, a big chunk, off my personal best.
"I ran a 14:48 in May 2019, so in almost exactly two years, I've managed to take 55 seconds off my previous best time, which is a lot, especially when it gets down to sub 15 minutes. To run that fast is a big improvement."
Next month, Main will participate in his first triathlon in over a year. A top-class field of domestic athletes will congregate in Llanelli - and the competition will likely be unpredictable and insightful.
"It's going to be interesting to see who has been putting in the work and who hasn't," said Main. "I think we are going to see some people coming through that weren't quite doing so well at the end of 2019 and are going to be right up there towards the podium.
"Hopefully I'll be one of them, but we'll need to see. I think my performance in Barrowford has put me in a good place and we'll see some interesting results.
"Llanelli is also going to be the qualification race for the under-23s European Championships in Kitzbuhel. The first two under-23s across the line automatically qualify and then there is a discrepancy place available. If I race well in Wales, hopefully my next event will be in Austria."
Competing at the Euro under-23s and earning regular starting spots at World Cup level are his short-term targets, but the fast-approaching Commonwealth Games remains uppermost in his thoughts.
"It's basically a home Games and it's not that far away now," he said. "A lot of my family and friends would only have to go halfway down the country to watch me race at a Commonwealth Games, which would be pretty amazing. It's another little boost to keep me motivated to train hard and hopefully get the chance to compete."
Main combines the trials and tribulations of being an athlete with the challenges of student life, however his time at the University of Stirling is entering the final stages - and it's a book he's ready to close.
"I'm just about to graduate," said the Sports and Exercise Science scholar. "I'm applying the finishing touches to my dissertation. It has been a bit stressful during the last few months but I'm almost there now.
"I split my fourth year, which was one of the best things I ever did. It allowed me to go to Australia and have six months just focusing on training. It is difficult juggling everything but I get around it by being organised, having a plan and a clear structure of how I'm going to fit my studying around my training.
"There are times when I have to ease back on training and focus on studying because I also want to do well on my course. There is always time for me to train and develop as an athlete, but you only get one chance to do well in an exam, so sometimes that has to take priority."
The Winning Students scholarship scheme has been an essential support mechanism for Main throughout his time at university. "At the moment, I don't have any sponsorship," he added. "I'm not on British triathlon funding, so I've got no real income, I don't have a job.
"Without the support of Winning Students, I'd be in a pretty bad place trying to continue my triathlon career, so it's been a crucial part of my development. It's allowed me to compete in several races abroad, go to training camps and get new equipment when needed. It's also helped with some living costs, so it's really important to me."
Main is determined to grasp the opportunity to don the Scottish vest in the West Midlands next summer, and it would be a fitting reward for his endeavours.
Words by Graham Semple.