News
#WinningWednesday with Lucy Glover
21 April 2021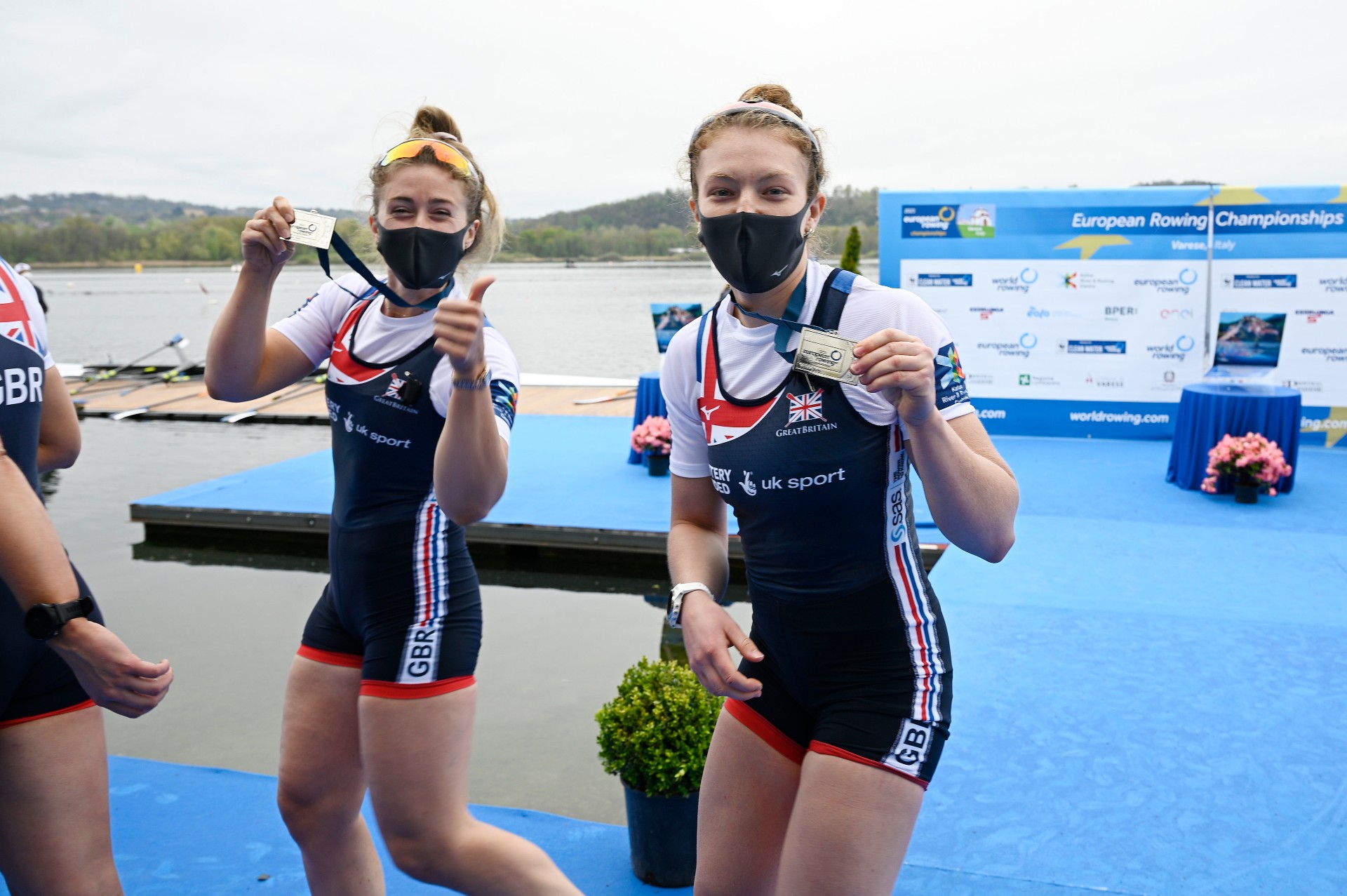 Lucy Glover made her debut for the senior GB Rowing team at the European Championships in Varese earlier this month and offered a glimpse of her vast potential.
The 22-year-old, alongside Hannah Scott, Charlotte Hodgkins-Byrne and Mathilda Hodgkins-Byrne, departed Italy with a silver medal from the women's quad - an impressive beginning for a scratch outfit.
"I didn't have any real expectations," said the highly-rated Glover, detailing her first outing in British colours. "We were more process-orientated; focusing on our race time, our strengths and trying to build on them with each race we had. I suppose the first race was a surprise, as we didn't expect to beat the Dutch crew, a well-decorated team that had shown consistent speed throughout the years. It was a nice surprise to know we had those gears in us, so in our second race, we wanted to win and be amongst the medals.
"I hadn't raced in a long time, around 20 months, so the first race down the track was a bit of shock to the system, as was the noise and tension at the start. It was nice to be back out on the track and see whether all the training we'd done had made a positive impact."
Glover enjoyed an outstanding under-23 career, enhancing her profile and standing in the process. She was awarded the Mark Lees Foundation Award in 2017, a prestigious prize for the most promising British female development rower.
"I've not found it too taxing," said the University of Edinburgh student, following her seamless transition into the senior ranks. "I'd been at a lot of under-23 regattas and it wasn't too different to them. The races are quicker but I've developed as an athlete as I've gone through the age groups, so I'm ready to embrace the challenge."
Glover's next opportunity to compete will be at a World Cup event in Lucerne. The GB foursome will remain as a unit in Switzerland, gaining valuable time on the water ahead of the upcoming Olympics.
"Competing in Tokyo would be good, but the aim is to win," remarked the Warrington native. "To win at the Olympics will be extremely hard but the aim is to do well, whatever that may be. The experience would be amazing, although a bit different because of COVID-19 protocols, but I'm ready to embrace that.
"I want to make sure that, whatever crew I go in, I can make it as fast as possible and have no regrets at the finishing line - knowing that we gave it our all. I want to make sure I take advantage of all the opportunities I get."
The opening to compete for titles during the COVID-19 pandemic is welcomed by Glover, however she did enjoy the rare chance to unwind in familiar settings during the initial lockdown. "The opportunity to go home was quite nice," she added. "I'm often away or studying in Edinburgh so I enjoyed going back and getting back to basics, getting some miles in on the Oak [rowing machine] and just enjoying training again.
"I couldn't go on the water, which was a pain but I managed to work around that with indoor training, using the garden and going out on my bike. It was about trying different things as I was away from the water for three months.
"I had that certainty of knowing there would be a time when things would return to normal, so I kept that at the back of my mind. It was nice that there was no immediate pressure to perform and no immediate goals, which provided an opportunity to work on different areas."
The final-year Psychology student has been relatively untroubled by the task of combining a rowing career with her studies. "I've not struggled too much juggling different things," she said. "It's been hard being based in Edinburgh and having to commute every Wednesday and every weekend to Glasgow for training.
"I'm now training full-time at the National Training Centre [in Caversham]. I've switched my studies so I have until December to finish two courses, so that's helping, as I need time for recovery. I want to make sure I'm not doing two things at 75% and can commit to doing both at 100%. I want to do myself justice and achieve what I'd like to in my degree.
The Winning Students scholarship scheme has been a constant source of support throughout her time at university. "It has been good in helping ease the financial pressure of performing," she continued. "It has also helped cover living costs, which has been one less thing to worry about. It's been great and ultimately very helpful."
Glover has made dazzling progress in her short career, and she is unwavering in her desire to showcase her undeniable talent on the world stage. It could be a summer to remember.