News
#WinningWednesdays with Emily Dark
24 March 2021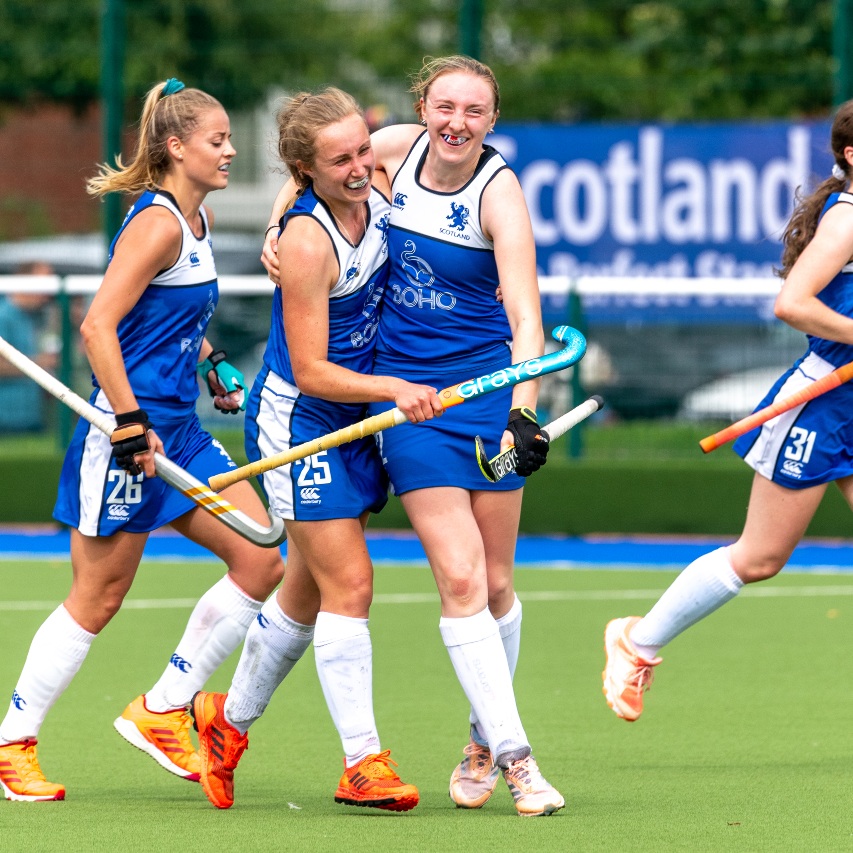 We caught up with Emily Dark, who shared how COVID challenged the dynamics of a team sport, and discussed what lies ahead for the Scottish Womens' Hockey team.
Emily Dark fulfilled a long-held ambition to represent her nation at a home tournament during the 2019 Women's EuroHockey Championships II.
The Scotland internationalist flourished under the spotlight, revelled in the partisan atmosphere and gleefully departed Glasgow Green with a winner's medal and the Young Player of the Tournament accolade.
"It was such a good tournament to be involved in. Having that home crowd was amazing," recalled Dark, who was surprised her sparkling performances merited individual recognition.
"I remember when I was playing at Under-16 level and had a nervous giggle when five people were watching you sing the national anthem. I got used to that, but walking out in 2019 with that massive crowd, cheering for us, I couldn't help but smile. It was such an incredible experience playing for Scotland against all these relatively top teams."
Dark is a versatile player with excellent close skills - and she possesses impressive power in both pushing and hitting. Her talent, evident at the Euros, helped undefeated Scotland earn promotion to the top tier.
The 20-year-old enjoys the camaraderie and togetherness of team sport; however, she had an unwanted opportunity to sample life as a solo athlete when COVID-19 took hold of the nation.
"It was really difficult at the start of lockdown, going from training so many times a week to not having any hockey at all," explained Dark. "I was able to use my old school pitch, so I managed to do some individual sessions. Scottish Hockey set up circuits and physical challenges that we could do in our gardens, so that helped keep the squad connected.
"We had lots of Zoom calls and video analysis meetings as well, which was quite nice as we'd normally have them at camps - so it helped us gain that feeling that we were at training. I think as a squad we managed to keep well connected and tried to motivate one another. It's hard when you're in a team sport and used to training together."
Dark received an unexpected boost last October. A phone-call from Great Britain's Head Coach, Mark Hager, inviting her to train with his squad for the first time, was, naturally, met with a quick-fire response.
With an Airbnb booked in Maidenhead, Dark made the journey south for a fortnight's training at Bisham Abbey. "It all happened very fast," she recalled. "All the girls were lovely and welcoming, but it was quite difficult to come into such a strong team with established values and tactics, so I had to learn the best I could.
"It was quite tough because I had only been back in club training for a few weeks, so coming out of lockdown was challenging but I managed okay. We had various tactical and technical sessions alongside fitness and gym, so it was quite varied and it gave me the chance to remind myself of everything. I was able to watch videos and analyse things I was maybe questioning, so everything was accessible."
The Dundee Wanderers captain made a positive impression in Berkshire and was selected for Pro League matches in Belgium and the Netherlands. Pitch-time was not forthcoming, but the overall experience left her craving more.
"Hopefully in the next year or so, fingers crossed, I'll get another opportunity to represent Great Britain and get my first cap," she added. "Being out there with all the girls, I learned so much from them all.
"I think if I'm asked again in future, I'll know the girls, know what the coach is like and how the processes all work. I think the next time I'll be super prepared and not have any moments where I'm confused - and can just go down and play my absolute best."
In the meantime, her focus is on matters closer to home. Scotland will compete in Pool A of this summer's EuroHockey Championships in Amsterdam alongside the hosts, Spain and Ireland.
"I think it's going to be hard, especially when we have not played as a team for so long," she explained. "We are looking to stay up and compete with these teams. It'll be quite a learning experience for a lot of us who are yet to play in an A Division Europeans, but hopefully, we do well and make an impact."
Dark, a third-year Physics student at the University of St Andrews, copes admirably with the challenge of balancing coursework with a blossoming international career. "It's tough, but I manage to juggle both reasonably well," she said.
"Before Covid-19, some courses didn't record their lectures. In physics, I'd often have to rely on catch-up notes from friends, which was often quite difficult so I'd have to reach out to lecturers. I've always tried to stay in contact with lecturers and tutors, and they've always been keen to help."
With such a jam-packed schedule, Dark was keen to highlight the various ways the Winning Students scholarship scheme has assisted her in recent years.
"It has helped me so much being a part of Winning Students," she acknowledged. "The university realise what I have to do with my training. If I didn't have that, the university wouldn't be so willing to give me time off to go away to various places.
"In my very first semester at university, I got selected to go to China with the Great Britain development squad, and they were absolutely fine with it and helped as much as they could.
"They've also been prepared to extend deadlines for me, which I don't think they'd do if I were not with Winning Students. The money they give us helps so much, especially when I was a member of the GB development squad and flying back and forth to London every other weekend.
"Without that financial support, it would have been hard."
Words by Graham Semple and photo by Mark Pugh.