News
#WinningWednesdays with Charlie Guest
31 March 2021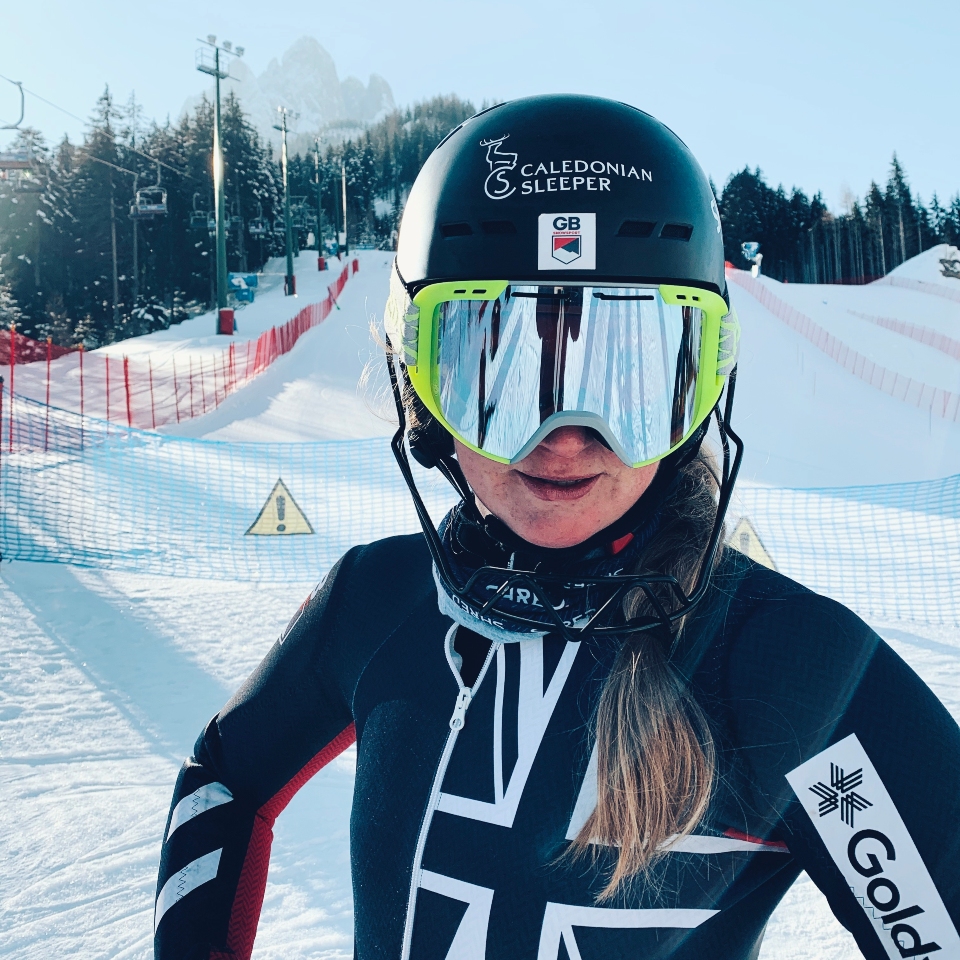 Charlie Guest's determination to end a promising campaign with a flourish came to pass a fortnight ago on the picturesque slopes of Åre, Sweden.
The Scot recorded the best World Cup Slalom result for a British woman in over 20 years with a 16th-place finish - smashing her personal best in the process to further underline her Olympic credentials.
Securing World Cup points was Guest's primary target for the season, but enthused by her breakthrough in Scandinavia, she rounded-off a frantic period by claiming a third Europa Cup gold medal – on alpine skiing's second-tier tour - in Reiteralm, Austria.
The 27-year-old can reflect on a productive spell with pride and look to the future with optimism. Her participation at next year's Winter Olympics is not yet assured, but Beijing will almost certainly be added to her itinerary.
"I've made everything that I need to qualify for the Olympics," explained Guest, keen to enjoy home comforts after three months on the road. "I needed one top-30 finish in World Cups and I've now got four, or two top-15s in Europa Cup. I have one win and two top-15s for the season, so I've put myself in a really good position for selection going into the summer.
"Hopefully next season in the World Cup tour I can keep strengthening my position. We won't find out officially until January, a few weeks before we are due to travel, so it'll be quite hectic."
Guest, who placed 33rd on her Olympic debut in PyeongChang 2018, has been contemplating her prospects ahead of a potentially career-defining 12 months. "Over the last few weeks I've begun to start talking about Beijing," she acknowledged.
"I've started to think about goals and, in my mind, a top-20 finish would be a minimum expectation. I'm currently 33rd in the World Cup Slalom standings so I think top-20 is a nice round goal to have, but you never know who is going to be there or what's going to happen, but I'd like to think that's where I can be.
"I'm in a much better position now than I was going into the previous Olympic cycle. Leading into PyeongChang 2018, I was unable to walk due to so much back pain. It was ridiculous, but I went to PyeongChang and it was a great experience. I managed to achieve a good result in the team event, but individually, I just wasn't in the same league that I'm performing in now.
"If my body is happy and I'm smart with how I'm working, then results will follow. It's then just a case of having a clear head, realistic expectations and having fun going about it. I'm looking forward to, hopefully, having an opportunity in Beijing and being fully prepared and ready for it."
Just over 12 months ago, Guest was in Sweden preparing for a World Cup event in the final throes of the season. The COVID-19 outbreak ensured the campaign came to a premature conclusion, but the initial impact on the sport was minimal.
"To begin with, I was thrilled to have a little more time off skis," admitted Guest. "It was nice to have a little bit more time at home in the summer when the weather was good. I got kind of lucky. I'd just moved house and my new neighbour had a garage with gym equipment, which he let me borrow for the duration of lockdown – so although I was training by myself and without my usual coaches, I was still able to have a productive lockdown."
Guest, refreshed from a pre-season break - a little longer than normal - was not overly perturbed by the strict COVID-19 protocols implemented on her return to action in Finland. "I think it was the realisation that everyone in the competition was in the same boat," she said.
"We've never been through this before and we all had to get on a charter flight, which was quite unusual. Everyone had to be tested before we could enter the hotel and enter our first race bubble. It was well organised and it felt safe as nobody could get in that hadn't been tested.
"It was weird, but thinking back on it now, we took it all in our stride quite well."
Guest is a grateful beneficiary of the Winning Students scholarship scheme, and the Psychology student from the University of Aberdeen is quick to acknowledge the importance of the additional support.
"It offers a great deal of financial stability during this really difficult time for everyone," said Guest. "Winning Students has allowed me to spend extra time on my studies and training. It's been a game-changer, to be honest."
The challenge of embarking on a top-level skiing career whilst studying is unlikely to ever be straightforward, however, Guest believes she has found a formula that works for her.
"It's a case of prioritising and working out what needs to be done and when - and being disciplined with that," she added. "I think the hardest times are during an intense competition period when I've got a lot of travelling to do because, for the last month, I've been so tired that it's been hard to get everything done.
"If I can keep ticking over a little bit at a time with university work, then it's manageable. If I let it pile-up, it can be a bit of a disaster, so I've learned little but often. At least if I'm sitting down for an hour and getting some work done then so much cramming isn't necessary.
"The Psychology department at Aberdeen is a great help. I couldn't do it without the support and understanding from them."
Guest's immediate focus is on her studies, but it's unlikely the Beijing Olympics will drift too far from her thoughts.
Words by Graham Semple